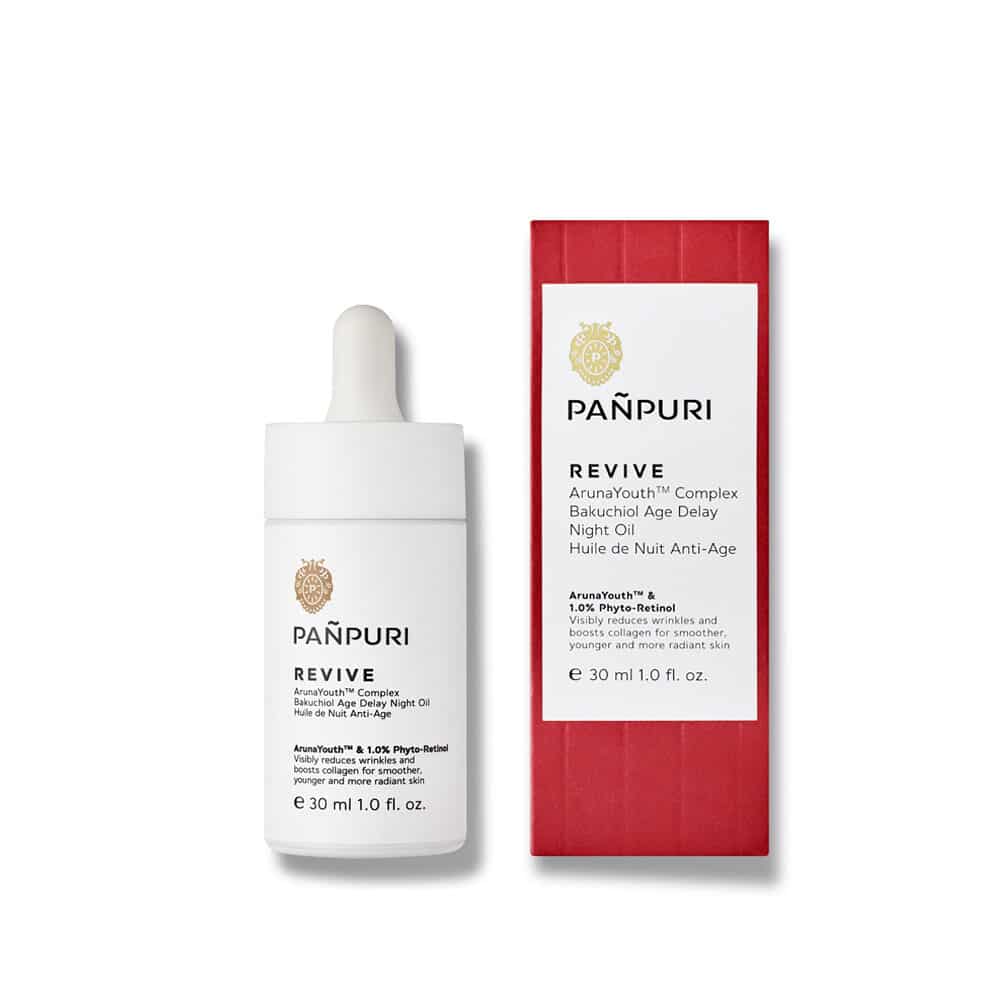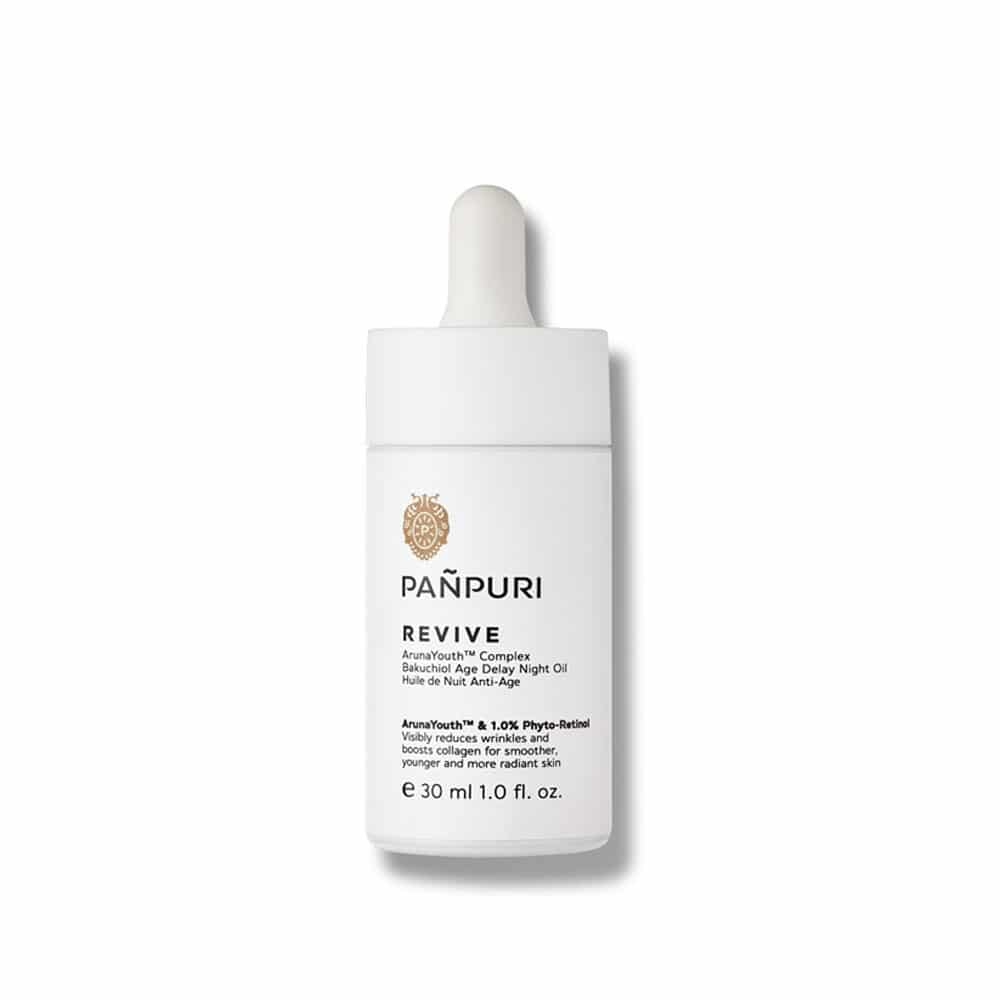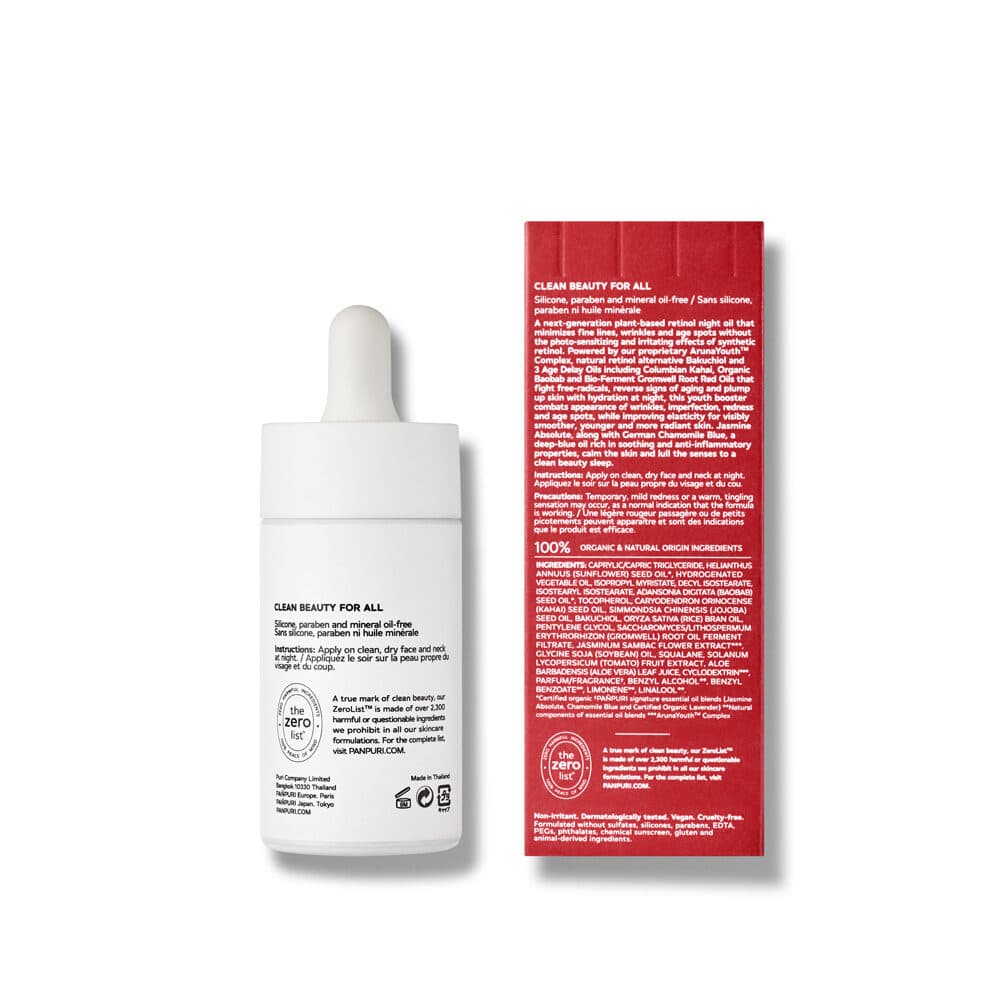 Free delivery for the countries of the European Union from 60€ of purchase.

Secure payment
Visa, Mastercard, Amex, Paypal, Maestro

1 free travel product
for any purchase over €60
In stock
Bakuchiol Age Delay Night Oil
91.00 €
A bakuchiol oil enhances the skin repairing process and boosts collagen production at night to visibly reduce wrinkles for smoother, more youthful skin.
100 % organic & natural ingredients.
Ideal for : aged and demanding skin. Against signs of aging.
Texture : night blue oil
Scent : floral – essential oil blend of jasmin, chamomille blue and lavender.
Dropper bottle 30 ml

Livraison offerte en France métropolitaine dès 40€ d'achat.

Paiement sécurisé
Visa, Mastercard, Amex, Paypal, Maestro

1 produit voyage offert
pour tout achat supérieur à 60€
THE KEY BENEFITS
Midnight-blue Night Oil Formulation
Formulated with ArunaYouth™ Complex, the highest concentration of natural retinol in the Revive skincare collection, along with three Age-Delay Oils that can accelerate the skin repairing process at night.
Collagen Generation
Infused with a natural retinol alternative (Bakuchiol) that stimulates new collagen generation with an excellent antioxidant property that results in a significant improvement in lines and wrinkles, pigmentation and elasticity.
Non Comedogenic Age Delay Oil
Rich in three Age-Delay Oils including Columbian Kahai, Organic Baobab and Bio-Ferment Gromwell Root Red Oils to fight free-radicals, reverse the signs of aging and plump up skin with hydration at night. These oils have a low comedogenic ratings between 0 - 1 including that garanty the night oil won't clog your pores or cause any acne.
OUR ZERO LIST
Silicone-free formulation
Formulated with Organic Sunflower Oil and Hydrogenated Vegetable Oil, natural conditioning agents that deeply penetrate inside skin for added softness and smoothness without the stickiness.
Paraben-free formulation
Formulated with Tocopherol & Pentylene glycol, a COSMOS-approved preservative that has excellent synergistic anti-microbial effect without irritating the skin.
Mineral-free formulation
Formulated with Caprylic/Capric Triglyceride, a naturally derived combination of coconut oil and glycerin, which is an effective antioxidant-rich skin-softening and excellent dispersing agent.